PC App
EVOX PC/Mac App lets you make, receive and manage calls on your PC/Mac. It provides the same functionality as the mobile app. Soon it will also integrate with other PC/Mac apps, like CRM or Office.
Your EVOX Phone on PC/Mac
You can register your PC app, mobile app or IP phone to the same extension so you can choose which device you want to use depending on where you are. All your devices will ring when a call comes in.
Notice: There is a limit to the number of devices you can add according to your EVOX subscription.
EVOX PC/Mac App can be downloaded via an email link provided to you by EVOX after you are enrolled by your company Admin as a PC app subscriber.
Within the EVOX app, you can navigate to any of these features: 
Call
Basic calling features
Make and receive calls to and from over 35 countries.
Transfer calls to a different extensions within your business or outside the company.
Put a call on hold so you can make or receive a second call, transfer the call, add a caller, or resume later.
Advanced calling features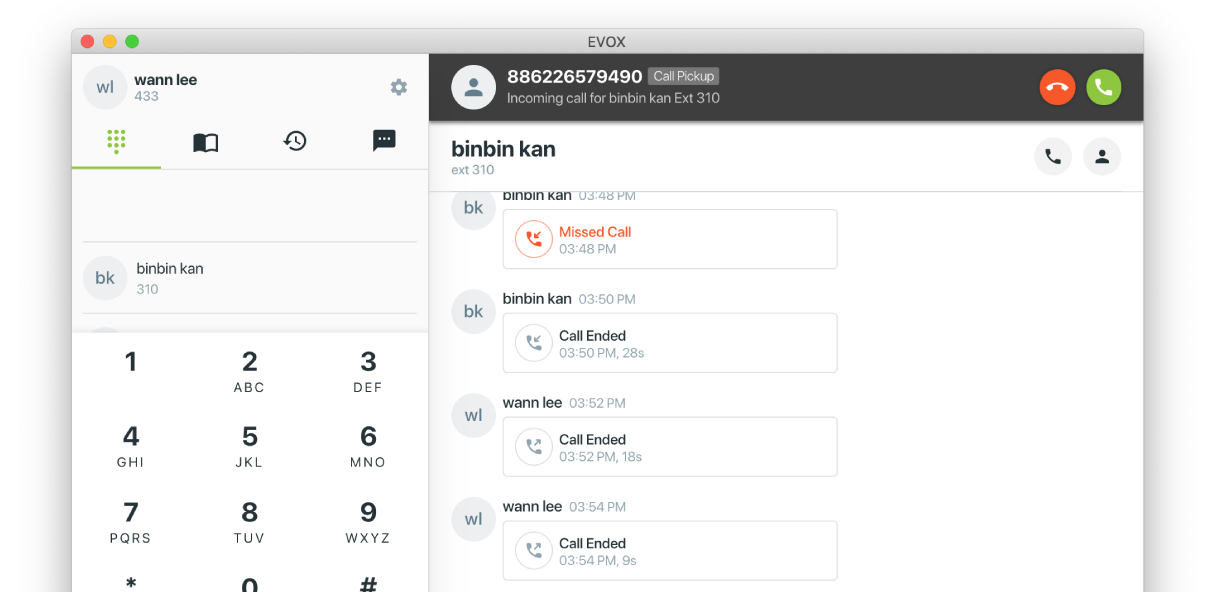 Pick up call
When the pick up function is enabled, you will get a notification whenever one of your colleagues gets a call, and you can pick up the call for him or her. You can enable and disable pick up mode at any time on the settings page.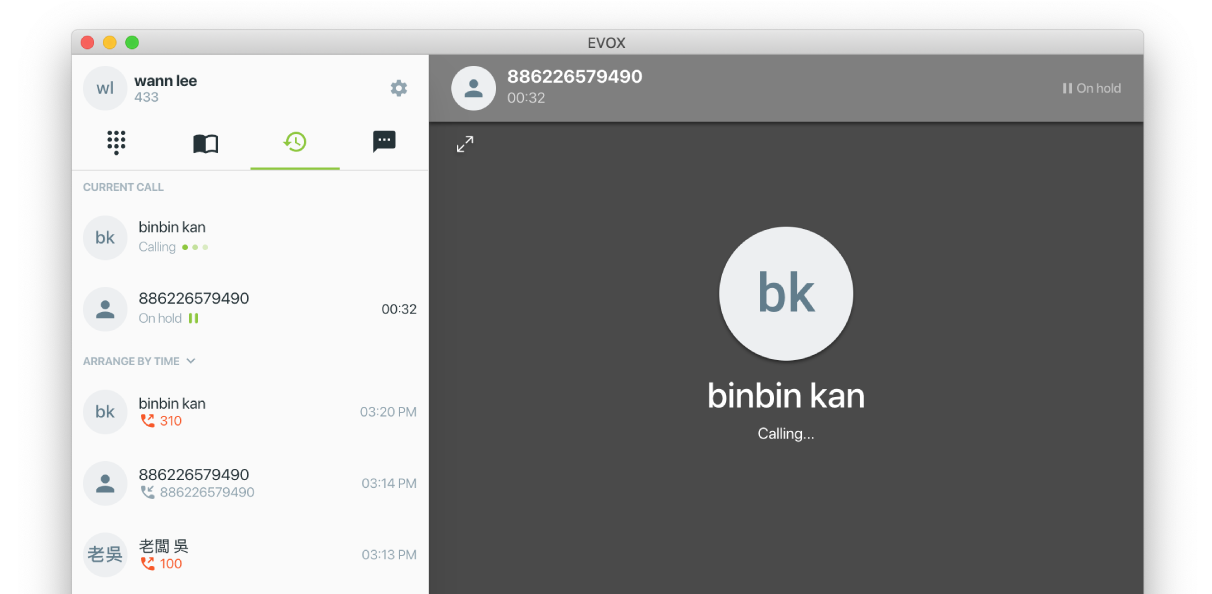 Add call
You can initiate a second call, keep them separate, or join them together later.
3-way call
3-way calling allows you to talk to two people at once.
Address book
People in your team can conveniently reach out to each other since your team's contact information is in one place.
Call history
ou can view all call activities, including inbound, outbound, and missed calls. When there is a missed call, the call history icon will have a green dot, indicating you have missed a call.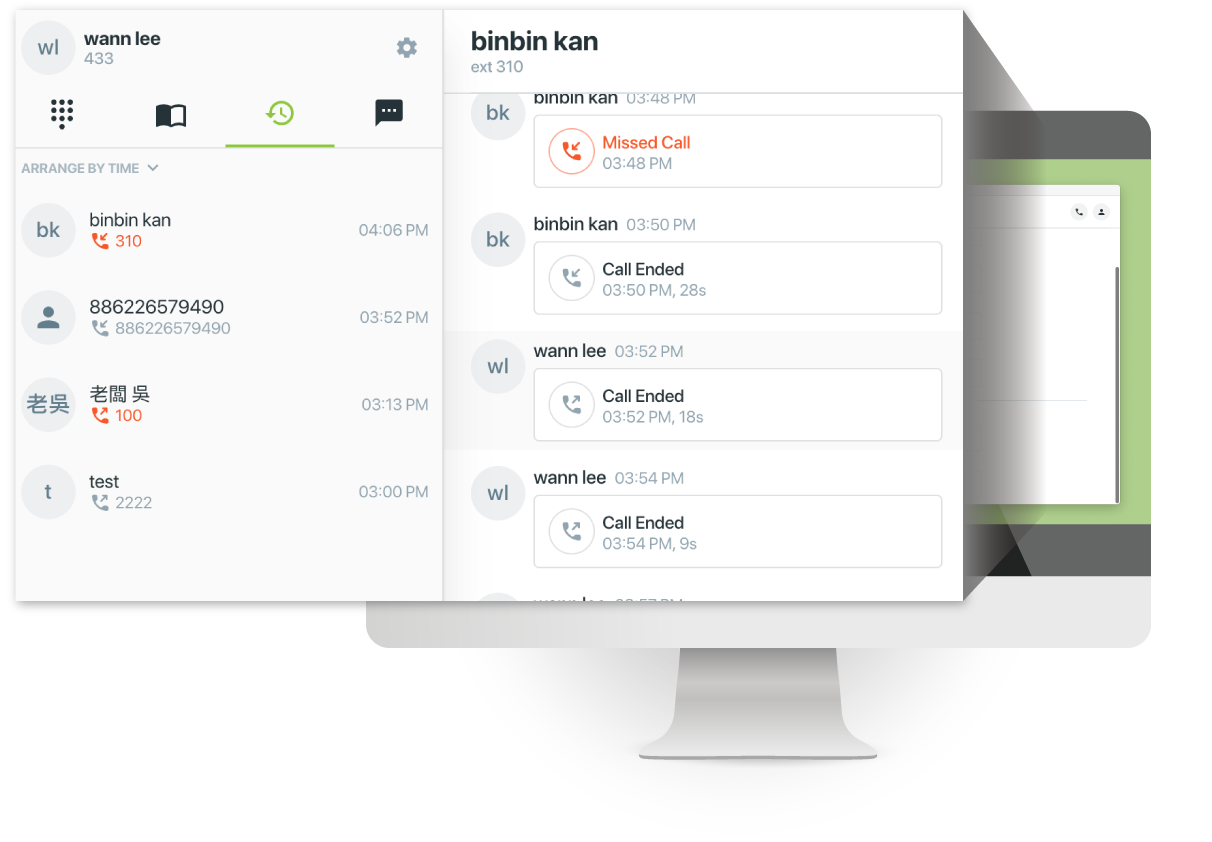 Messages
View system notices and voice messages.
Manage and listen to voicemail within the app. If your messages inbox is full, additional messages will be sent as audio files to your email.
Customize your personal greeting by going to settings.
Customize your app
If you're at home or too busy for calls, you can switch off your availability setting so your phone will not ring. Callers are automatically forwarded to your voice mail.
Enable and disable pick up mode.
You can change their profile picture and other details shown to company members. Profile settings is visible only to your coworkers.
You can set your personal greeting by recording your voice or by entering text.
You can adjust call forwarding behavior at any time, as needed, such as not transferring any incoming calls, transferring calls or transferring all incoming calls when you are busy, and you can specify to transfer to a specific extension, phone number or auto attendant.
Default calling app
PC-App Only
You can set EVOX as the default dialing application. When you click on the link on the web page or in the email, EVOX will start and dial.